Zakończyła się Cavaliada w Sopocie. Pierwszy w historii konkurs Grand Prix w Ergo Arenie wygrał Jarosław Skrzyczyński na Inturido. W konkursie Dressage Cup Grand Prix Freestyle triumfowała Sandra Sysojeva.
Bez wątpienia najważniejszym sportowym elementem każdej Cavaliady jest Grand Prix. W Sopocie był to konkurs zwykły z rozgrywką, z przeszkodami o wysokości 145 cm. Wyniki z tego konkursu zaliczały się też do Longines Ranking. Z niełatwym parkurem zmierzyło się 45 par. Do decydującej rozgrywki zakwalifikowało się 11 zawodników, w tym aż 7 reprezentujących Polskę. Walka w rozgrywce była bardzo emocjonująca, a różnice czasowe pomiędzy trzema pierwszymi miejscami nie przekraczają nawet pół sekundy. Najszybszy, z pewnością ku radości całej publiczności, okazał się Jarosław Skrzyczyński. Zawodnik triumfował w najtrudniejszym konkursie zawodów dosiadając ogiera rasy KWPN INTURIDO. Parkur rozgrywki pokonali w czasie 40,76 s. Miejsce drugie wywalczył Angelos Touloupis (GRE) w starcie na oldenburskim wałachu BLUE BALOU 5. Ich czas w rozgrywce to 40,84 s. Zawodnik tym wynikiem zapewnił sobie też prowadzenie w klasyfikacji ogólnej Cavaliady Tour. Trzeci czas w rozgrywce uzyskał Matas Petraitis (LTU) startujący na wałachu rasy KWPN GOLDCOAST VDL. Czas przejazdu tej pary to 40,99 s. Na czwartym miejscu konkurs ukończyli Tomasz Miśkiewicz i klacz VELVET LAZAR. W rozgrywce walczyli też Małgorzata Ciszek-Lewicka na ogierze ICI (6 miejsce), a także Kamil Grzelczyk na WIBARO, Dawid Kubiak na klaczy ANASTACIA III, Dominik Pieniaszek na FOR FUTURE oraz Aleksandra Lusina-Gołaś na klaczy CAMBEL I G. Zajęli kolejno miejsca od 7 do 11.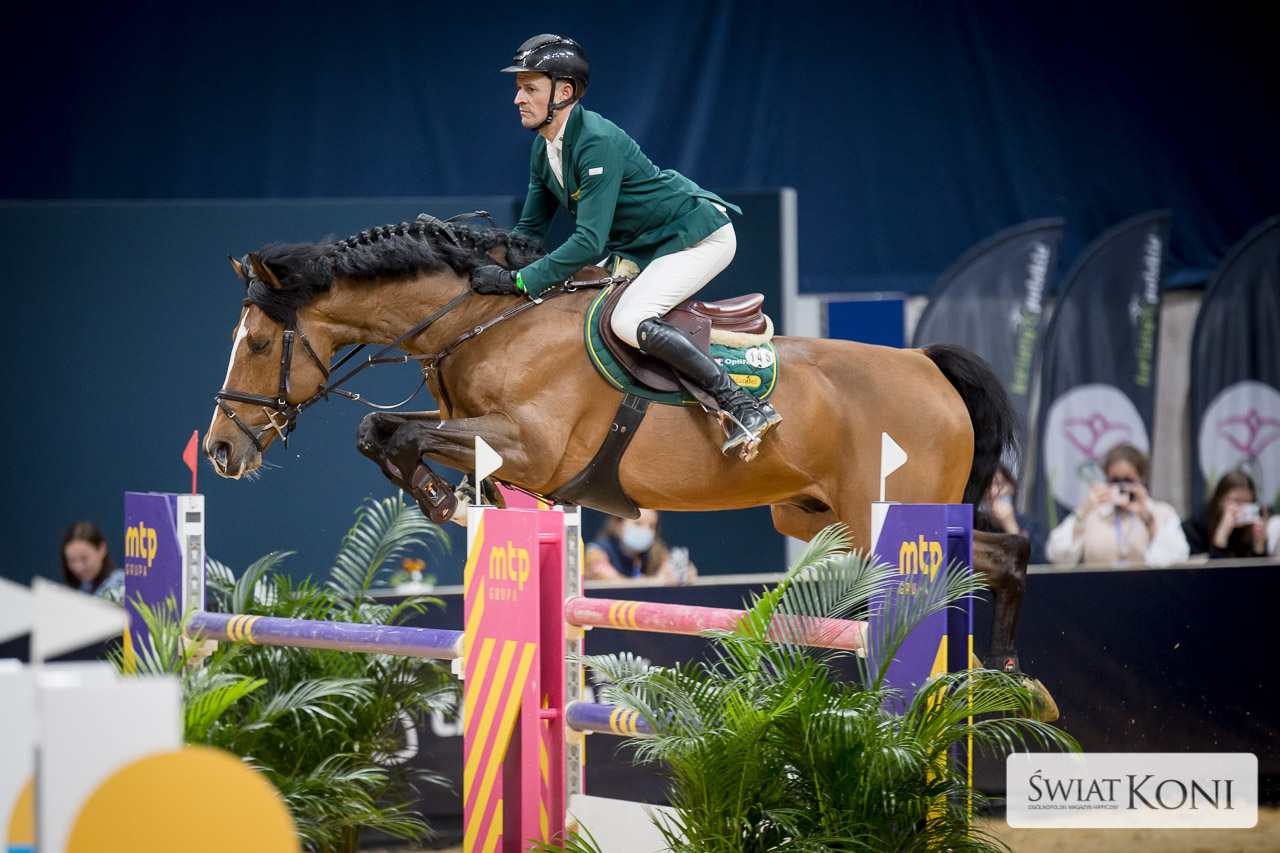 Jarosław Skrzyczyński i INTURIDO
W niedzielę rozegrano także finałowy konkurs Immergas Dressage Cup. Zawodniczki prezentowały się w programie Grand Prix Freestyle, dowolnym z muzyką. W Sopocie startują jedynie cztery pary, ale mogliśmy oglądać czołówkę klasyfikacji ogólnej. Konkurs pewnie wygrała liderka rankingu Sandra Sysojeva z Litwy. Amazonka w Polsce reprezentuje KS Centurion. Jej dzisiejszy występ na wałachu JACK DANIEL'S sędziowie ocenili na 74,700%. Miejsce drugie zajęła Aleksandra Szulc startujące na wielkopolskim wałachu BREAKDANCE. Wynik z jakim zakończyli dzisiejsze zmagania to 71,017%. Na trzecim miejscu dzisiaj uplasowała się Anna Mierzwińska. Jej występ na westfalskim wałachu DEAN MARTIN oceniono na 70,325%.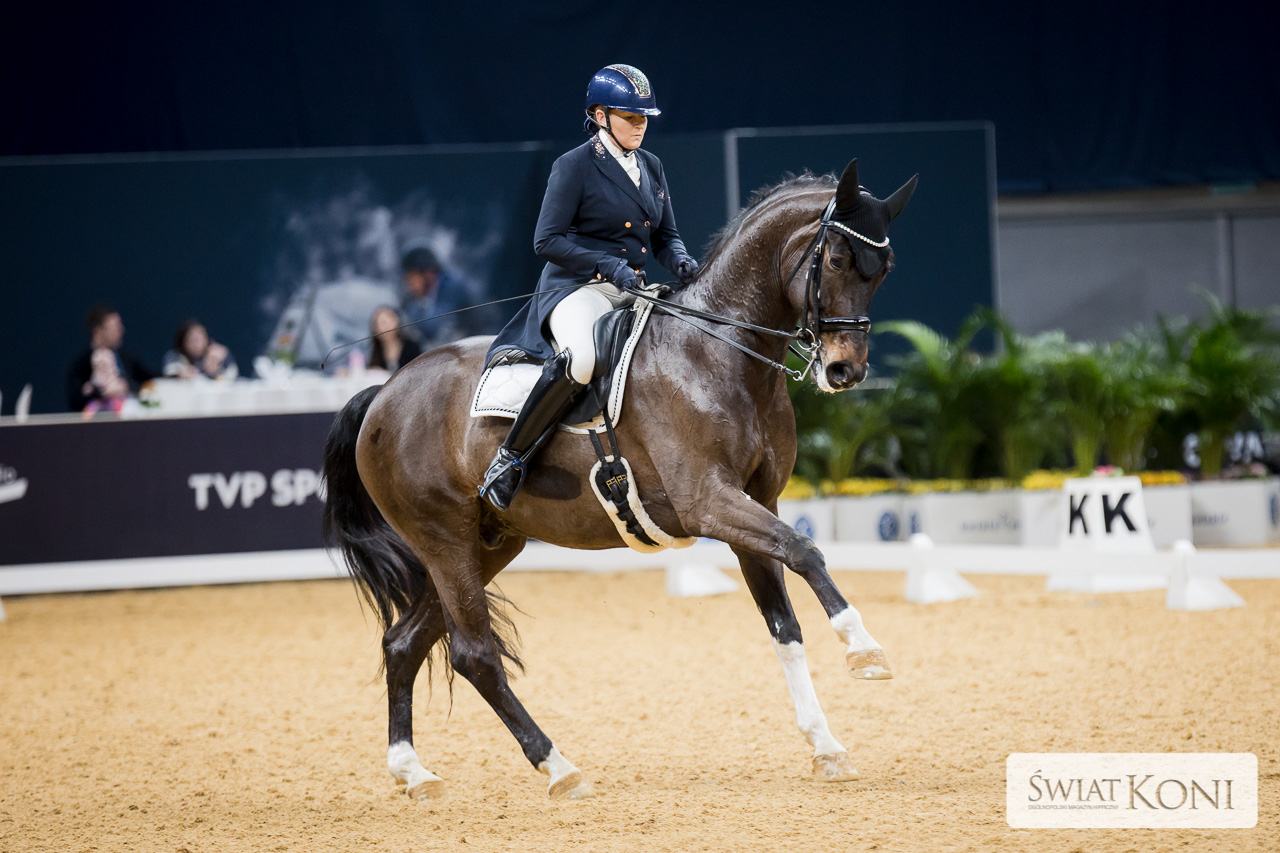 Sandra Sysojeva i JACK DANIEL'S

Swój drugi konkurs w niedzielę mieli także zawodnicy Cavaliady Future. Konkurs rozegrano już klasycznie, jako zwykły z rozgrywką. W kategorii MINI aż pięć zawodniczek zakwalifikowało się do rozgrywki. Ostatecznie po zwycięstwo sięgnęła Katarzyna Zawadzka startująca na klaczy WEDOG PRIDE N JOY. Miejsce drugie wywalczyła Wiktoria Cwalina na kucu S-PIORUN, a trzecie miejsce zajęła Zofia Kamińska razem z wałachem PASJONATA PARYS. W rozgrywce kategorii MIDI walczyły dwie amazonki. Czyste konto zachowała jedynie Gabriela Romanowska startująca na klaczy HAPPY DAY. Miejsce drugie zajęła Zofia Ciszek razem z kucem DŻARNA, a trzecia w tej kategorii była Michalina Jach na klaczy KRESKA.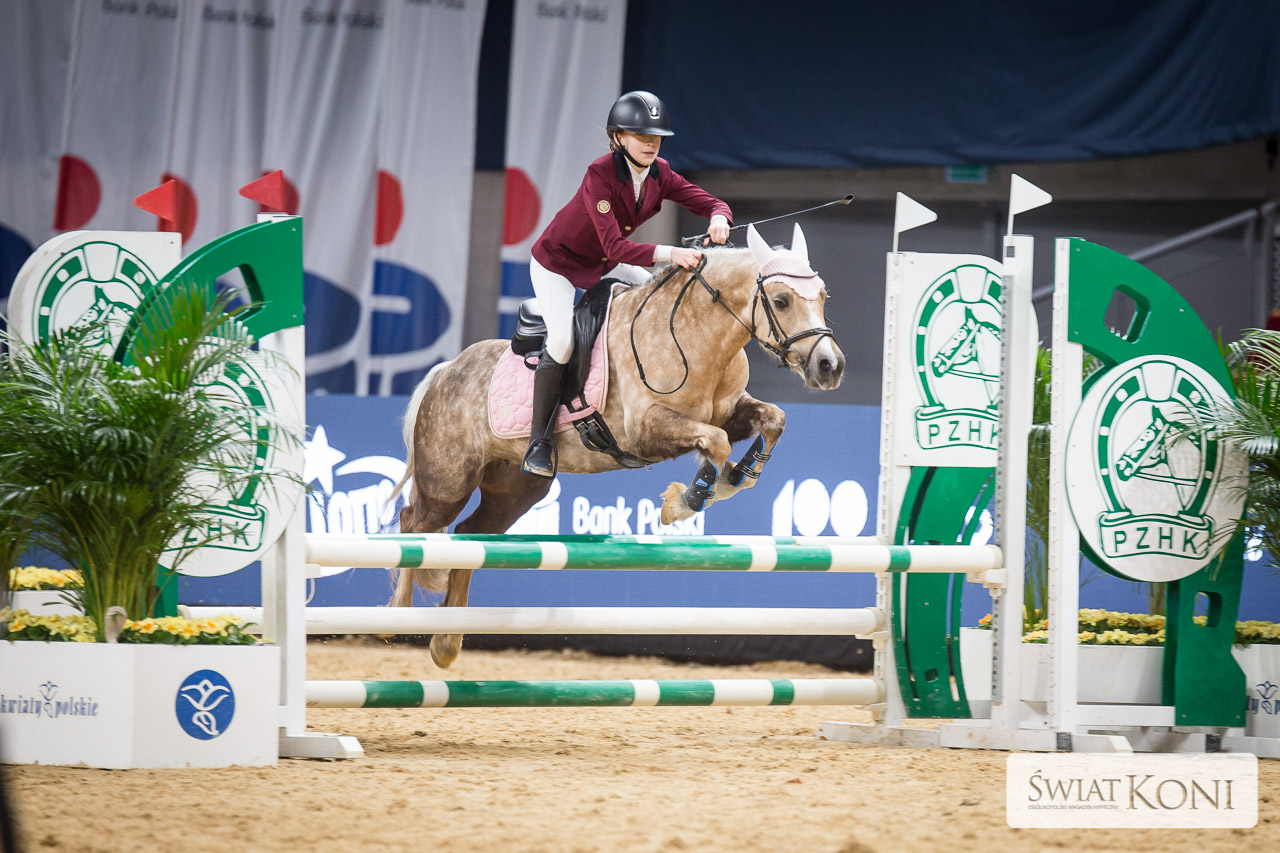 Katarzyna Zawadzka i WEDOG PRIDE N JOY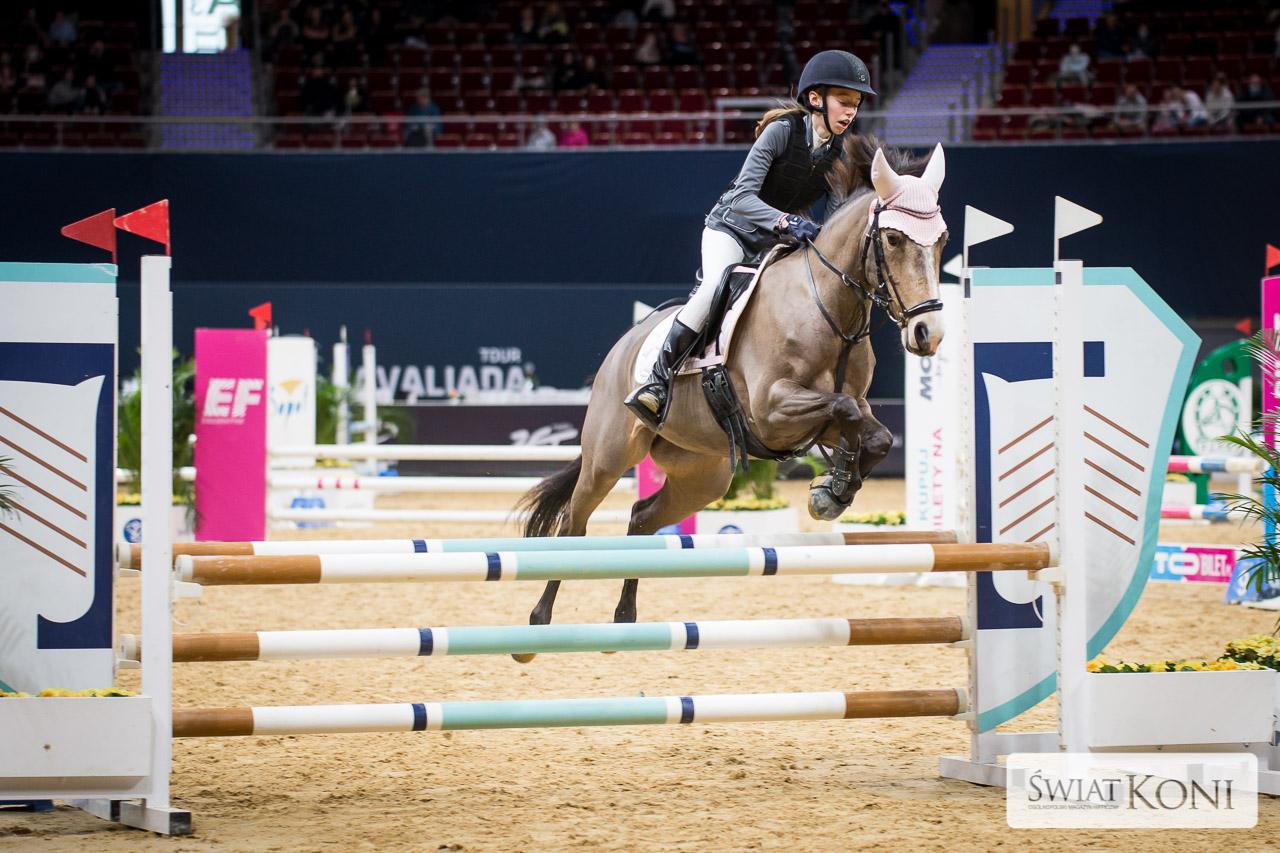 Gabriela Romanowska i HAPPY DAY

Ostatni dzień zawodów w Sopocie rozpoczął się wcześnie rano od finałowego konkursu Small Tour 125 cm. Na liście startowej zapisane był aż 92 pary. Najlepiej z drugą fazą poradził sobie Filip Lewicki dosiadający klaczy rasy KWPN KELDITA. Pozostałe dwa miejsca na podium zajęli również reprezentanci Polski. Drugie miejsce wywalczył Jakub Ryczkowski startujący na klaczy QUALITY QUEEN, a na miejscu trzecim uplasował się Jacek Zagor razem z niemiecką klaczą HERA DE LUX.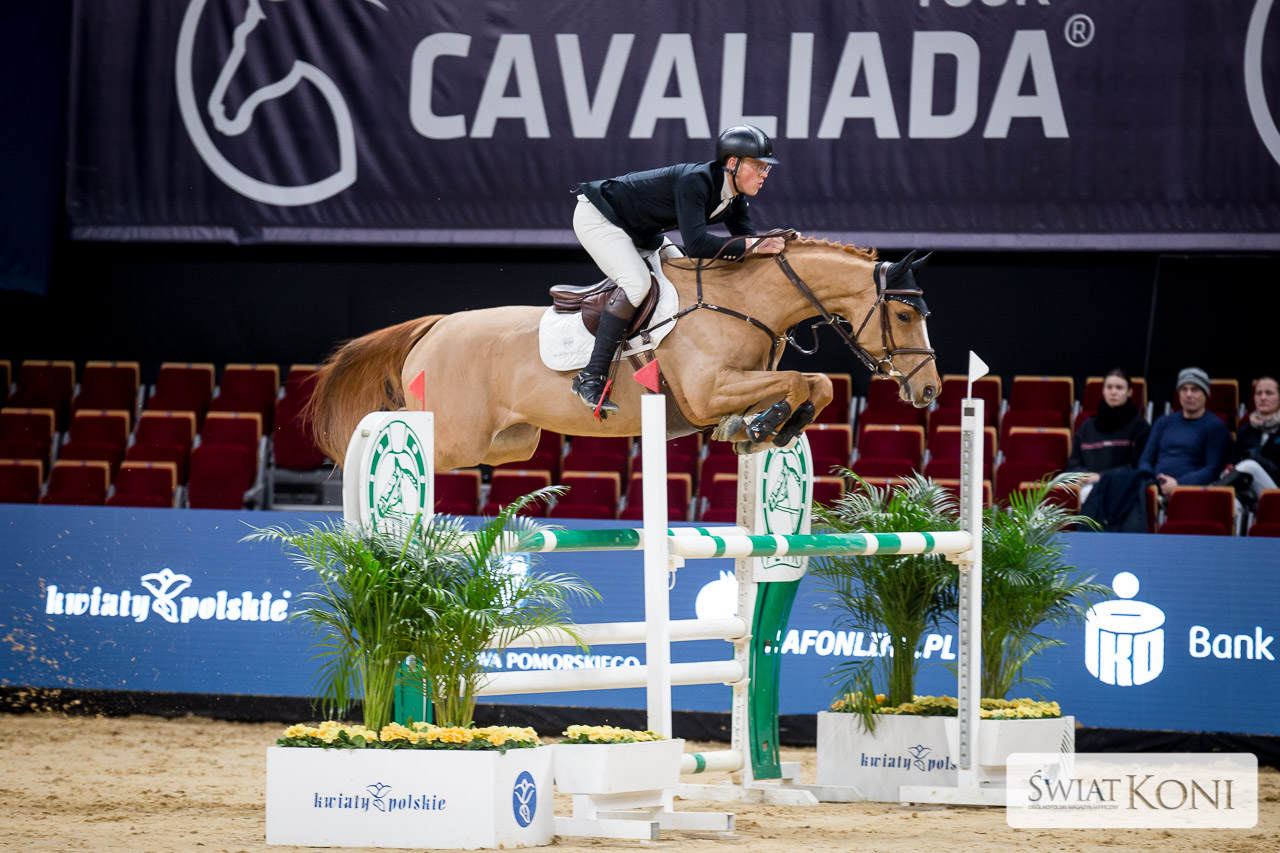 Filip Lewicki i KELDITA